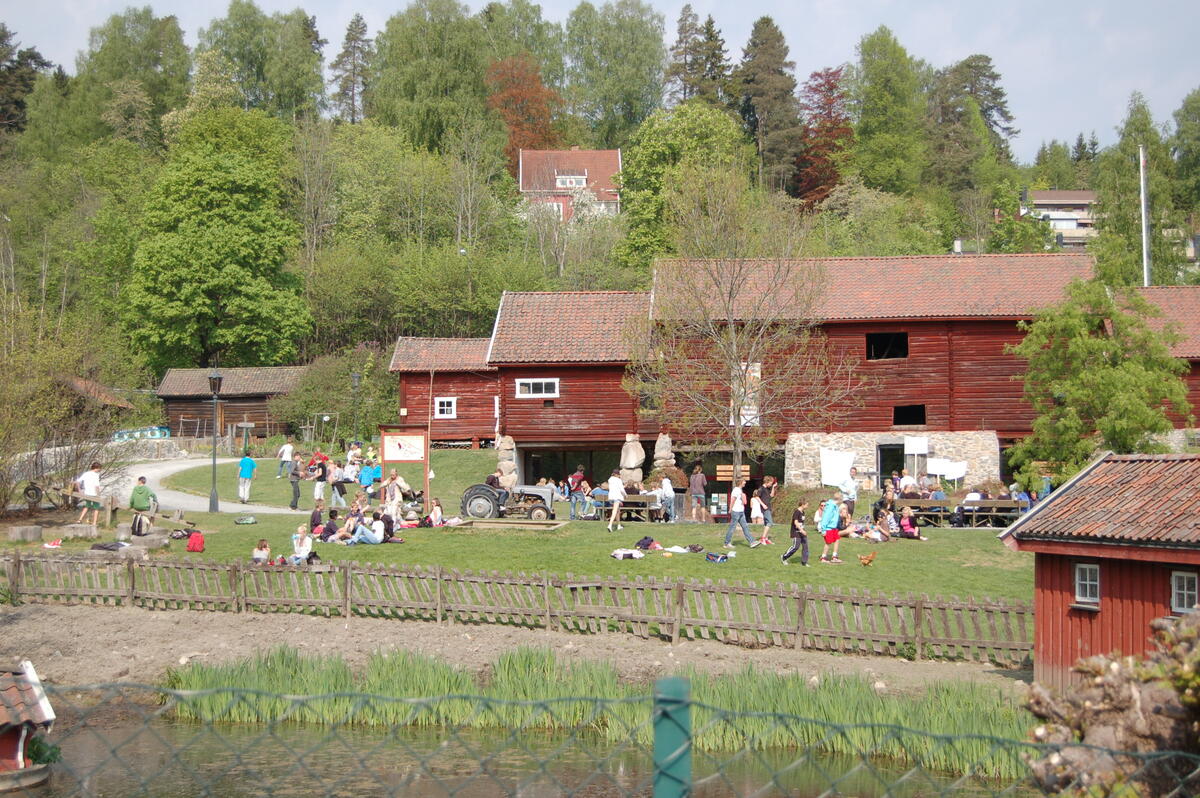 The museum has a large and interesting collection of houses, artifacts and a historical garden including sculptures by Anne Grimdalen. Fusdal Barnhouse an exhibition room with changing exhibitions, Café Gunhild and a museum shop. The heart of the museum is the artist homes of Tilla and Otto Valstad and Hulda and Arne Garborg. Collections, exhibitions, animals and plants in beautiful surroundings, makes a visit here an unforgettable experience.
Not to mention, we have "historically" tasty waffles!


Tilla and Otto Valstad
Tilla and Otto Valstad were avid collectors and gifted artists. They bought and relocated many of the buildings found on the museum grounds. Their goal was to preserve as much as possible of Asker and Norway's material history. Besides being a painter, Otto was also a carpenter, teacher and author. His works are displayed here at Asker Museum, as well as in the Norwegian National Gallery in Oslo. Tilla, his wife, was a teacher, author and textile artist. Her products are on display at Asker Museum.

Hulda and Arne Garborg was another extraordinarily creative couple that also lived in the Artist Valley. They were close friends of the Valstads. The Garborg House, Labråten, is open to the public as is the Valstad House. Arne and Hulda were key activists in a movement that sought to renew Norwegian culture and traditions and was part of the so-called Asker circle.

Arne was an author and a leader in the struggle to protect and develop the New Norwegian written language, which is founded on rural Norwegian dialects. 
Hulda, also an author, worked with her husband to promote Norwegian cultural traditions. She is famous for her work with bunads, the Norwegian national costume, as well as bringing back the Norwegian folk dance. She also established Det norske Teatret, The Norwegian Theatre, today located in Oslo. All plays are still performed in New Norwegian and dialects. 

The historical garden that surrounds the Valstad House, including the socalled "Book garden" and the children playground, is always available to the public. The gift shop and Café Gunhild are located on the ground floor of the Fusdal Barnhouse.